Augmented Reality Creations geared up for the FIT Show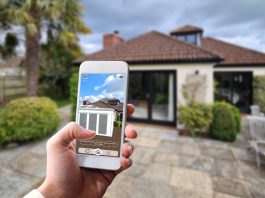 After significant backing from investment firm Knightstone Capital, headed up by Purplex Marketing founder Andrew Scott, tech start-up Augmented Reality Creations (ARC) will be showcasing their latest innovation at this year's FIT Show.
New to the industry and already taking the conservatory market by storm, ARC Design is a unique and innovative software that sits within an installer's website, helping consumers design their own conservatory within seconds, and then request a quote.
The homeowner can then save the design to their mobile phone or tablet, and view the conservatory in immersive augmented reality while walking around their garden and home.
ARC COO and Co-founder Andy Clear comments: "This technology will transform how homeowners design and buy conservatories. It operates seamlessly within the installer's website, and anyone can design a full 3D conservatory within seconds, then walk around it on the back of their house in augmented reality for a fully immersive experience.
"With ARC Design, conservatory installers can add a real wow factor to their sales visits, giving potential customers more control over their investments, increasing their conversion rates and potentially growing their business.
"ARC Design is incredibly easy to use, and the photorealistic visuals will upgrade any installer's sales process, helping them grow and improve as we move towards a new digital world.
"We're very much looking forward to showcasing ARC Design at this year's FIT Show, and to introduce industry leaders and potential customers to this game-changing innovation."
The FIT Show will be held at the NEC in Birmingham from the 10th to the 12th of May.
For more information or to try a free demo, visit
This content was originally published here.