British Columbia Institute of Technology – BCIT partners with industry to integrate augmented reality into trades training
FabStation, a new pilot project empowers BCIT students to take steel and metal work beyond the classroom and into the future with the help of augmented reality software, says BCIT Metal Fabrication instructor Henry Ostermann.
"I see huge potential," says Henry. "Augmented reality software help students visualize their surroundings and workspace exactly as they are the full-sized piece."
The educational pilot project was initiated in 2021 and came about as a collaborative partnership between BCIT and Eterio Realities, the Victoria-based developer of FabStation a cutting-edge software offered free of charge for Level 2 students in the BCIT Steel Trades programs.
FabStation uses break-through mixed reality technologies to visually place three-dimensional (3D) assets into a worker's normal workflow for construction and inspection.
This means a two-dimensional blueprint can be by-passed altogether and the 3D CAD design can be referenced directly – something that is incredibly useful when a tradesperson is working with large, heavy, or intricate steel structures.
FabStation can be downloaded as an app and used on any mobile device, so it's adaptable and easy-to-access. It can also pair with a wearable HoloLens 2, allowing for hands-free adaptability while working.
Another key benefit is that it also allows the user to double-check measurements at a critical stage, preventing errors before they occur.
Have you subscribed? Sign-up to receive the latest news on BCIT.
Access to cutting-edge technology for trades training
It's the first time FabStation has been used in an educational setting in this way but Henry sees many ways the mixed reality software could be applied in the future, across various disciplines and trades.
"Since this technology is still in its infancy within the educational context, there were some inherent challenges to overcome," reflects Henry. "This became an opportunity for BCIT to work with the developer to improve the technology to make it more user friendly for students in the field."
So far, the results of this educational partnership have been positive and strengthened collaboration across students in Steel Trades programs at BCIT.
Metal Fabrication and Ironworker students worked together to complete a structural stair project by using the software to pass different iterations of the construction back and forth.
This includes conceptualization, planning, layout, fabrication, and inspection done in the shop as well as inspection, installation, modification, and quality control completed in the field. It has also envisioned to simulate the similar supply chain requirements and various issues that these apprentices would have to consider in their respective fields through these types of projects.
"FabStation is an innovative technology that enhances the applied learning experience of BCIT trades students," adds Henry. "Special thanks to Randolph Warnaar, CEO, Eterio Realities Inc., for sharing his time and technology and Mike McKoryk and Ryan Downey from the Ironworking department for their work in this project."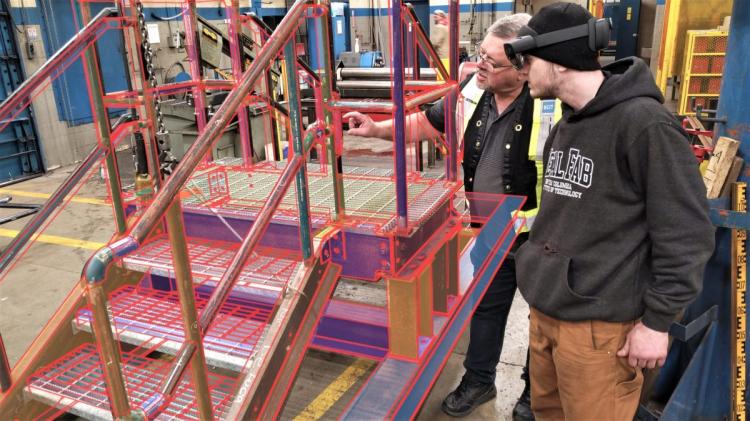 (Photo caption: Instructor Henry Ostermann checking the discrepancies with student Rowen Peters. The virtual model overlay against the as-built shop project.)
(This story was written by Chantal Eustace.)
This content was originally published here.