International Association of Venue Managers Hollywood Park Extends Samsung Augmented Reality Experience, Dreamground, Through December –
Hollywood Park is extending Samsung's AR experience, Dreamground, through December. The AR experience offers guests a physical and digital playground through a combination of whimsical physical structures, on-screen animation, and custom AR functionality.
Dreamground at Hollywood Park is free and spread throughout Lake Park. Guests can explore three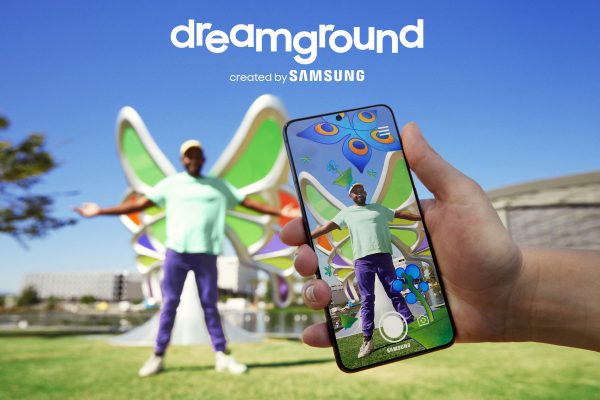 immersive worlds: Bubbloonland, Fluttering Forest and Crystal Galaxy, which are all enhanced by corresponding sculptures throughout Lake Park. Users exploring Dreamground can add their own virtual elements to the sculptures and surrounding landscape by using their smartphone to place and create interactive elements on any surface in Dreamground. Users can even draw midair to make custom floating creations.
Elements created in Dreamground last for up to 24-hours, so users can see what others have created before them, collaborate with friends in real-time, as well as leave something behind for others to see. This allows each experience in Dreamground to be unique and build upon other Dreamground visitors' creations. Dreamground also features interactive face filters and allows users to share their unique content – photo or video – across social channels.
In addition to the onsite sculptures, Dreamground can also be accessed through SoFi Stadium's 4K Infinity Screen by Samsung. Prior to select ticketed events, guests will view a Dreamground video on the Infinity Screen that features a QR code that once scanned allows them access to Dreamground inside the stadium. Built for the future, the Infinity Screen by Samsung has the largest LED content playback system ever deployed. With nearly 80 million pixels spaced 8 millimeters from center to center, each panel can be uniquely or congruently programmed with statistics, live and/or animated content.
Dreamground also features content exclusives for Galaxy 5G device holders on Verizon. These users will have access to Galaxy G5 Portals throughout Dreamground that feature 4K, 360-streamed video and ultra-high-fidelity AR. The ability to explore and interact in high resolution and in real-time showcases the power of the high bandwidth and low latency of 5G.
Kristi Mexia is Sr. Director/Head Corporate Communications at SoFi Stadium and Hollywood Park.
This content was originally published here.